Strawberry Lemonade Mocktail Recipe- With Regular Ingredients
Summertime is the perfect time for enjoying delicious strawberry lemonade mocktails! These refreshing drinks are perfect for sipping on a hot day, and they're easy to make with just a few simple ingredients. So grab a glass and join me in celebrating summer with these fun mocktails!
Why Drink Strawberry Lemonade
There's nothing quite like a cold, refreshing glass of strawberry lemonade on a hot summer day. This mocktail recipe is a delicious and guilt-free way to enjoy the classic flavor combination.
To make it, simply combine freshly squeezed lemon juice, diced strawberries, and sparkling water in a glass. If desired, you can add a touch of sweetness with a natural sugar substitute like honey or agave nectar. Garnish with a few fresh strawberries and enjoy!
How to Make a Strawberry Lemonade Mocktail?
Here's an easy strawberry lemonade recipe to make sparkling strawberry lemonade:
Ingredients:
1 cup strawberries, hulled and halved
1/2 cup fresh lemon juice
1/4 cup sugar
1 1/2 cups cold water
3-4 drops red food coloring (optional)
Ice cubes
1 tablespoon grenadine syrup
Ginger ale
Directions
In a blender, combine the strawberry puree, lemon-lime soda, and sugar. Blend until smooth. Make the strawberry juice. Pour the mixture through fine mesh strainer
Pour the mixture into a pitcher, adding the cold water and food coloring (if desired). Stir to combine
Fill glasses with ice cubes and pour the mocktail overtop. Drizzle with grenadine syrup before serving. Enjoy!
Benefits of Homemade Strawberry Lemonade Mocktail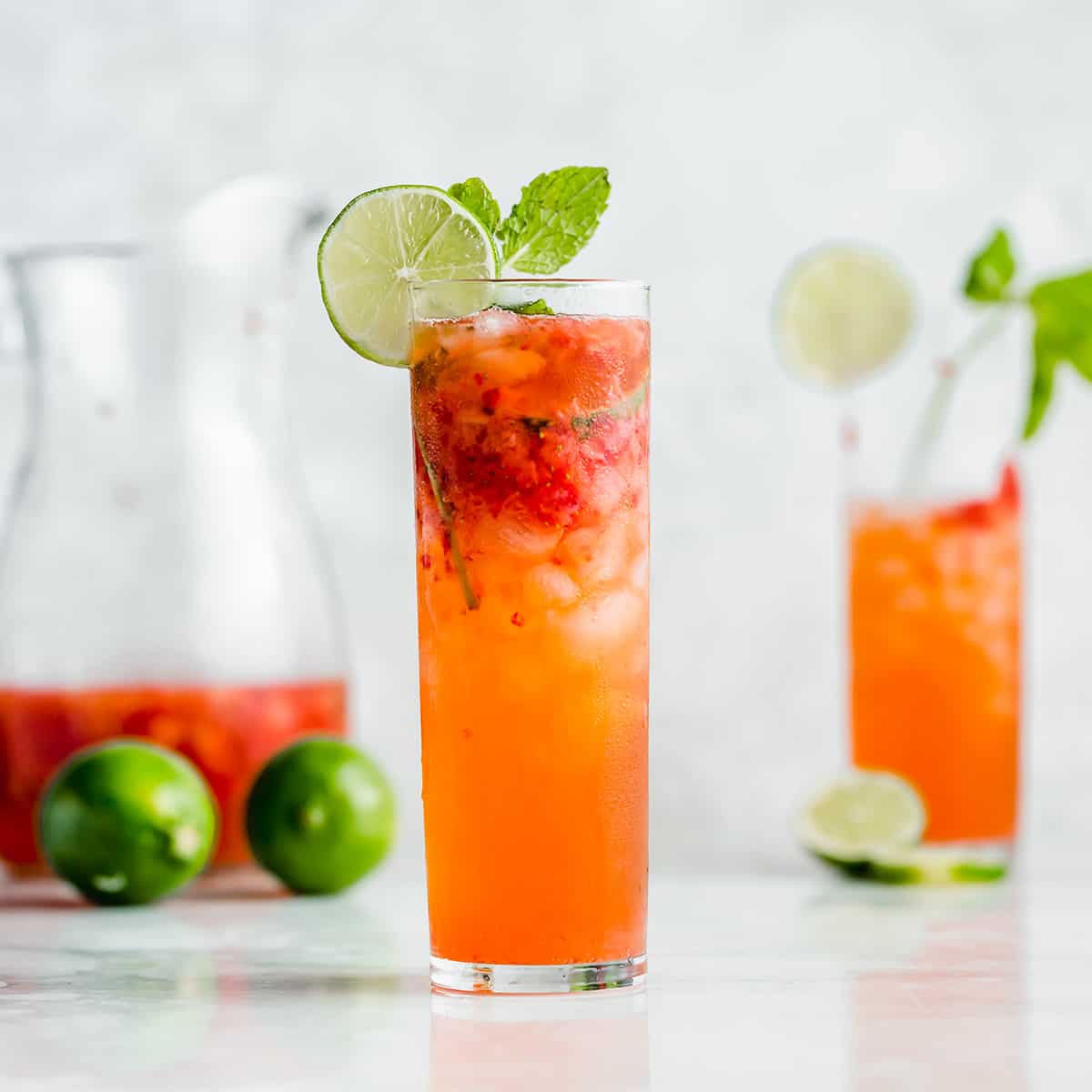 Summertime is the perfect season to enjoy a refreshing glass of homemade strawberry lemonade.
Not only is this drink delicious, but it also offers some health benefits. Lemons are a good source of Vitamin C, an essential nutrient that helps to boost the immune system.
Strawberries are also a rich source of antioxidants and have been shown to help protect against heart disease and cancer. In addition, drinking lemonade can help to keep you hydrated and improve your digestion.
So next time you're looking for a summertime treat, reach for a refreshing glass of homemade strawberry lemonade. Your body will thank you for it!
Additional Tips for Making the Perfect Strawberry Lemonade Mocktail
When it comes to making a delicious and refreshing strawberry lemonade mocktail, there are a few key tips to keep in mind. First, be sure to use fresh strawberries for the best flavor. Adding frozen strawberries will not provide the desiring taste. Secondly, add a splash of club soda or seltzer water for a little fizz and extra refreshment. Finally, don't forget the ice!
Adding a few cubes to your drink will help keep it cold and make it even more refreshing. With these tips in mind, you'll be well on your way to making the perfect strawberry lemonade mocktail. Enjoy!
Variations on the Classic Strawberry Lemonade Mocktail Recipe
The variations include adding mint to the drink or using sparkling water in place of still water. For a slightly different take on the drink, try substituting lime juice for the bottled lemon juice. If you want to make an alcoholic version of this mocktail, add vodka or rum to taste.
For a refreshing twist on the classic strawberry lemonade recipe, try adding mint to the drink or using sparkling water in place of still water.
You can also substitute lime juice for lemon juice if you want a slightly different flavor. To make an alcoholic version of this mocktail, simply add vodka or rum to taste.
Fun Facts About Strawberries and Lemonade
1. This flavorful combination can be made into a delicious smoothie, perfect for on-the-go enjoyment.
2. Strawberry lemonade is also a popular choice for celebratory occasions like birthdays and graduations.
3. For an extra boost of flavor, consider adding a sprig of mint or some fresh berries to your glass.
4. If you're looking for a lower calorie option, try substituting sparkling water or diet soda for the lemonade component.
Conclusion
Whether you're looking for a drink to enjoy at your next summer barbecue or something to sip on while watching the sunset, these homemade lemonade recipes are perfect. With just a few simple ingredients, you can make them yourself in no time. Don't forget to try one of our alcohol free drinks by Mingle Mocktails. We offer a variety of flavors that are handcrafted and low-calorie. This post may contain affiliate links for the best mocktails out there. 
---